The 80s were great years for classic shoe brands. I'm sure everyone that grew up around this time has a favorite pair of shoes they wore and loved. I know I do. Everyone had their style, and sometimes it became hard to decide which shoes you wanted to wear. Although I can't change the past, I can help you remember the fabulous shoes from the 80s. You can then decide which ones to bring back into your wardrobe.
Converse shoes were invented in 1908 in Malden, Massachusetts, by Marquis Mills Converse. Although these shoes were initially made of leather, in the 1970s, they switched to canvas. Despite the converse being produced decades ago, the shoes gained massive popularity in the 80s. The converse shoes were worn on almost everyone's foot, from kids to adults. These shoes can be worn with about 75% of any person's wardrobe, and it's super versatile pairs of shoes. 
To learn more about the converse shoe, check out this article: "All about the converse."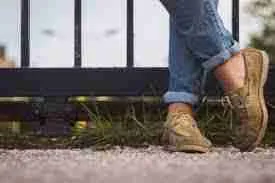 These shoes were featured in many different 80s movies. Moccasins date back to the late 1900 century. In the 1980s, moccasin shoes were popular in the United States. They were footwear with a soft sole and were generally worn indoors.
The shoe's design is derived from the Native American moccasin, which Native Americans initially made in North America out of hiding or leather. Moccasins are shoes that come in many different styles and colors.
If you are looking for a moccasin-style shoe, you will be able to find them in all sorts of materials such as leather, suede, or wool. They were initially made of animal skin or fur worn to cover your feet and keep your toes warm. These shoes were often polished with a sealant like wax to make them water-resistant and easier to clean. However, traditionally moccasin-style shoes are usually made of animal skin, but nowadays, some companies use synthetic materials instead.
To learn more about Moccasins shoes, read this more detailed article(moccasins shoes)
I think these shoes are hard to find as of right now. I remember my brother wearing these shoes on his first day back to school. The first Reebok pump was introduced in 1980 and was released in 1989; these were some top-of-the-line shoes offered in two colors – black/green and white/red. They were designed for fitness enthusiasts because of their lightweight construction and flexibility. Considered innovative at the time, Reebok pumped shoes became popular among sports stars. My brother wanted these shoes because we saw them in the movie "White men can't jump." Super an awesome movie, by the way.
Reebok pumps are the first sneakers to have an air bubble, created by Walter A. Sheller Jr., an engineer working for Reebok. The shoes were designed with a durable rubber sole and leather upper, with the signature air bubble on top of the heel, making them stand out from other shoes. The first Reebok pump was introduced in 1980 and offered in two colors – black/green and white/red. They were designed for fitness enthusiasts because of their lightweight construction and flexibility. Considered innovative at the time, Reebok pumped shoes became popular among sports stars.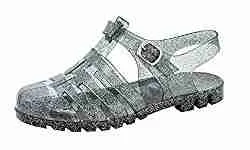 Jellies are shoes typically made of brightly colored foam rubber that looks similar to jello. These 80s shoes were by far one of my favorite pairs of shoes. They were super comfortable on my feet, making it feel like I was not wearing anything. The jellies were first introduced to America by a Japanese company called Onitsuka Tiger. The release of the Jellies shoes was in the late 1960s and early 1970s. They were popularized in America in the early 80s by singer Paula Abdul and became commonplace for women's casual footwear throughout the decade.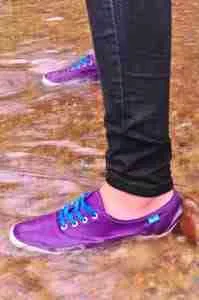 These shoes were released in 1949; ked was an excellent pair of shoes to wear. They became more popular around the late 80s. The color that people liked the most was white, but that was hard to keep clean for me. So I used to prefer the colored ones.
The Ked Shoe Company was founded in 1916 by three brothers who had the idea to make shoes for kids after their sister would come home from school complaining about her sore feet. They aimed to create a shoe that was easy to put on and take off and that would be suitable for school children's needs which is how they came up with the name "Ked."
The La Gears is a perfect example of 80s-style shoes. You would beg your parents for one of the top 1980s shoes if you were born around the 1980s. I liked these shoes because some of the styles had a light on the bottom. The other pairs had a distinctive gold label on the tongue of each shoe, which was one of the major selling points. Nike first introduced la Gear shoes in 1985.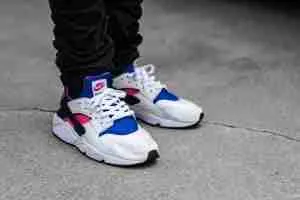 One of the coolest pairs of Nike from the 80s. The Nike Air Huarache was created by Bruce Kilgore in 1987 as a cross-training shoe for athletes. Made from their specially designed synthetic material called Phylon, it had an anatomically correct design, and at the time, it was the first shoe to use this material. They officially were released in the late 80s and was instead a hit.
In 2006 Nike released an updated version of the Huarache called the air Huarache light, which utilized more synthetic material. In 2008 Nike released another updated version called the Air Huarache Run, which used air cushioning for greater impact absorption. Nike has discontinued production of this shoe model, but different variations of these shoes can be found that revolve.com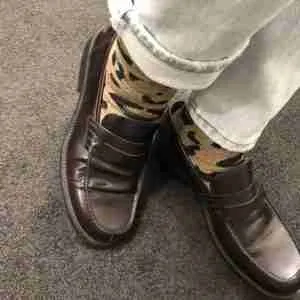 Penny loafers were known to have been released around 1847 by John Lobb as a more casual version of the dressier Oxford shoe. These shoes started trending in the early 1980's, and these 80s shoes are available in both men's and women's styles. In the 80s, this type of shoe was usually associated with style, wealth, and elegance. This has made it a go-to choice for many celebrities and public figures for their red-carpet appearances.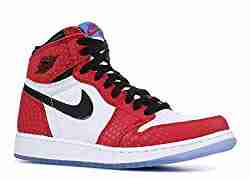 The Air Jordan's is an excellent pair of 80s high tops. When these shoes came out in 1985, every kid that liked shoes wanted a couple of pairs. Which also includes me. You were a whole new person when you put on a pair of these 80s shoes. The Air Jordans are a line of sneakers made by Nike. They were created by Michael Jordan, a famous basketball player in the 1980s. Air Jordans are the most popular shoes at that time. The Air Jordan shoe line debuted at Nike headquarters in 1985, when Michael Jordan took out his first signature shoe for an exhibition game against NBA All-Stars Larry Bird and Dr. J. The Air Jordan 1 became available to the public on March 18th, 1986, and retailed for $65.
I remember having many pairs of these Air Force 1. In 1982, these shoes became more popular in the late 80s. Bruce Kilgore designed them for basketball players, but they soon became popular with skateboarders and hip-hop dancers due to their ability to grip surfaces such as waxed floors and wooden boards. These 80s 80s shoes were the type you had to have more than one pair of shoes because you would never want to wear a dirty pair. These shoes became more known in the 90s because of a song called Air force One.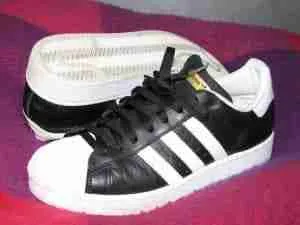 Adidas started in 1949 in Germany and has since expanded into many countries. In 1979, Adidas had a partnership with the NBA, and in 1984, they partnered with the NFL. In the 1970s, Adidas started to experiment with new technologies and materials and, in the process, created a new genre of sports shoes. When Adidas introduced its first running shoe called The Boston Marathon, it was made out of synthetic leather and designed with a neoprene tongue that eliminated any risk of lace chafing. Adidas was also made famous by the hip-hop group Run DMC in the 80s.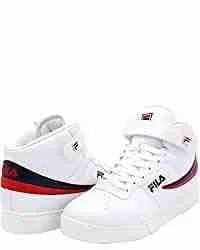 Fila was released in 1911 but became well known in the late 80s. I just loved the color mash-up of these shoes. It's something about red, white, and blue that I think looks great together. Filas is an Italian footwear company specializing in running shoes; Gianni Fila founded it in 1911 in Filandia, a small town in Pavia, Italy. It began as a shoemaker for local farmers and athletes. The company's growth started in 1967 when it became one of the first Italian manufacturers to produce running shoes. In the 1980s, Fila's running shoes became popular worldwide; they were known for their comfortable fit and durability.
If you were in elementary in the 80s,  I'm sure you had a pair of these Saddle shoes; these popular 80s shoes are known to have been made around 1940. These shoes begin back great memories for me, and I also love these shoes. In collaboration with Dr. Martens, the saddle shoe was originally developed in the 1970s by designer Bruce Burch to provide a more comfortable alternative to traditional oxfords in an era when dress shoes were traded for comfort footwear. They are now seen as trendy retro shoes with various colors available for purchase.