We all know and love the 80s decade. But of course, fashion from the 80s is what sticks in our heads the most when it comes to this decade. Hip-hop fashion was always around before the 80s, but Hip Hop music wasn't well-known until the late 80s. That's when hip-hop fashion exploded. It was such a comfortable and relaxing style, but it was also flashy and in your face. 80s hip hop fashion was more than just clothes; it was an expression of music through your style. And we all know that the primary influence of hip-hop fashion was the rappers, also known as the MCs. Some of those rappers are Run DMC, MC Hammer, and LL Cool J, and the list can go on for days; let's reminisce on some of those great iconic 80s hip-hop fashions that we know and love today.
Let's learn about 80s hip hop fashion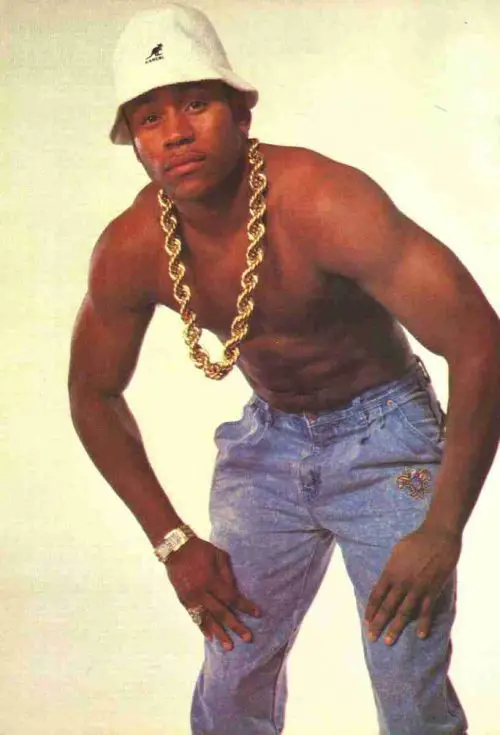 One of the most iconic headwear fashion trends of the 80s was the Kangol bucket hat. The hip-hop culture inspired this look; mostly, every rap in the 80s would throw on this flashy hat to complete their look mainly because the Kangol hat symbolizes power, luxury, and coolness. The most notable rapper to wear this iconic hat is LL Cool J.
The Rope Chain necklace was seen in the 1980s in fashion trends. These chains were usually 16-18 inches long with an 8-inch drop. They are also sometimes called "wishbone" necklaces because they resemble the neck shape of the person wearing them. These Rope chains are a great way to dress up your outfit and make it look more stylish. Back in the 80s, it will also let people know that you had money. I was a symbol of accomplishment.
The clock chain was a whole different ball game in the 80s. The rapper Flavor Flav is the one who made this look famous at one point.
80s Hip Hop Fashion from Iconic women
Gold hoops have been a fashion staple for decades and were popular in the 80s. These flashy earrings were something that every young girl wanted in the 80s. They were super flashy and also classy at the same time. Roxanne Roxanne was one of the rappers who made these earrings known throughout the hip-hop community.
The oversized sweater is the 80s hip-hop fashion you might not have known that 80s hip-hop women started. As hip-hop culture surged in popularity, it brought a distinctive style that defied conventional norms.
The oversized sweater became a symbol of this rebellion. Worn by women with confidence and attitude, these baggy garments often featured bold patterns, vibrant colors, and sometimes even political or cultural messages.
Paired with chunky gold jewelry, high-top sneakers, and often a snapback or beanie, the oversized sweater was more than just a fashion choice; it was a statement of identity, individuality, and belonging in the burgeoning hip-hop community, as you can see from the above picture of Roxanne Shante.
The 80s started the thick socks trend
Many people don't know that thick socks became popular in the 80s and are still in fashion. This happened because of the hip-hop movement. These two factors led this fashion trend to become popular among many rappers.
Short pants, also known as "cutoffs" or "hotpants," were popular during the 1980s. They were worn to show off your sense of fashion while looking cool and relaxed.
For the past decade, the boomer jacket has been popular with men and women. Maybe because it was a nice loose-fitting, lightweight jacket. The jacket style was made famous in the 1980s by LL COOL J and many other rappers. This is one of those styles that has stood the test of time and will be around for many years.
Wind breaker jacket and hats 
The windbreaker jacket in the 80s was something to talk about. Mainly because you can wear this jacket in the summertime and not be burning up. And you can pair it with a thicker jacket in the wind time. So the debate became, is this a jacket or a shirt. Despite all the controversy, it was a trendy item to wear in the 80s because you could wear short pants or long pants.
Gucci was founded in 1921, but this company didn't become the brand it is today until they created this cool-looking outfit in 1983; back then, they called it Dapper Dan. Many rappers loved the red leather jacket set because it was flashy. And if you had this on in the 80s, that meant that you were wealthy and successful.
 Louis Vuitton and mcm brand
 Louis Vuitton and mcm brand are yet again another brand that was hard to get if you need to have enough money or the right connection. Both of these brands were out way before the 80s. But they didn't get noticed by rappers until they created this look that every famous person wanted. 
Light wash jeans have a low level of color pigment, which means they have a more faded look than other types of denim jeans. This gives them a vintage vibe that is attractive to many people. They have a cleaner look that makes them suitable for wearing with just about any outfit because it doesn't compete with what you're wearing or distract from your outfit. And why it became popular in the early 1980 was because it was a nice clean color that you could throw with any shirt.
The tracksuit was created in the 1980s as an alternative to the sweatsuit. It was a fantastic relaxing look that could be dressed up and down. This look became more popular from the group Run DMC; they would wear it with Adidas and steal the show.
Many people in the 80s hip hop enjoy wearing jeans. Because it was super fashionable. But once the complete jean set came out, it took over the hip hop fashion world.
In addition, many hip-hoppers also like to add some accessories to their clothes. If you are also a fan of hip-hop fashion or a member of a rap band, you can try hip-hop-style Custom PVC Patches and pins from GS-JJ, which can easily be worn on denim clothes or hats. You can customize them with your favorite elements or band logos, which will emphasize your personality and make you look cooler and more fashionable than others.
I'm sure most hip-hop professionals would say there's nothing like a fresh pair of Jordan. Jordan was not released until the 80s. Due to its style and price point. These shoes became an instant hit and a much have. Every rapper seen would have a pair of them or own a pair. These shoes were a must-have a still are today.
I'm sure the last thing you would think that a hip-hop star in the 80s would be wearing were boots. But yes, they were wearing it when they wanted to dress it up a bit and drop the sneakers.
Four finger ring started in the 80s
Hip Hop-style rings were popularized in the late 80s, with rappers like Big Daddy Kane and Run-DMC wearing them on their index fingers. The ring became a symbol of both wealth and strength which is why it made such an impact when rappers wore it on their fourth finger.
If you are a fan of hip hop and fashion, these are the things that you would need in your closet to pull off the 80s hip hop look.