Who doesn't love and miss the 80s? I know I do; that was the best decade ever. So if you are having a party, it only fits to throw an 80s theme party.
Then the question that comes up is how to do that. I will lay out the perfect steps that you need to follow to throw a great 80s party.
One of the critical things to have in an 80s theme party is the right decorations that people in the 80s would have had.
If you are interested in throwing a 90s theme party, read this article.→ How to throw a 90s theme party.
How to budget for a 80s party
It doesn't matter how much money you have. It's always best to set a budget.
If you have ever watched the show on MTV called "My Sweetie 16,". The parents always have a budget for their kids, and some of them are even billions.
The importance of a budget is to set some boundaries for yourself. Even if you can afford to go all out, I'm sure you won't be happy when you see that billing statement next month.
If you need help managing your money, read this article about saving money.
Plan ahead for your 80s theme party 
And if you are on a tight budget. Planning ahead of time will be an excellent idea for you.
So, if you know that in 3 months, you want to throw a party for yourself, family, or friends, start saving your money that same day.
Figure out an estimate of everything you want to have at your 80s party. Create a ballpark figure of how much everything is going to cost.
Once you have an amount, set aside the money to reach your goal before your party date.
So, now that you have the budget in place, it is time to start getting all the decorations.
The best way is to gather everything that's 80s-related and combine it to make everything look great.
Below are great examples and ideas to help you create the perfect setup.
The above 80s decorative island was made using.
The following items: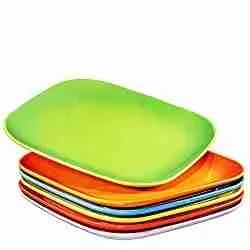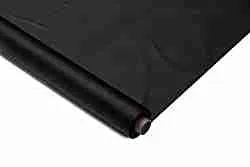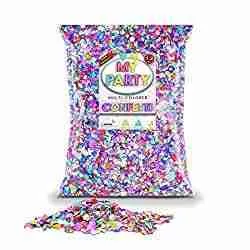 This is an excellent idea for a table centerpiece, and it was made with:
There is no colorful tape; you will have to paint these the color you choose, and I suggest using spray paint because it's faster.
Setting up the food and drinks for your 80s theme party
A great thing to have is an 80s-themed candy area. It will have all the props and stuff from the 80s. So when people see it up, they instantly think of the 80s.
Some of the best 80s candies are:
Here are some explains of a great 80s candy table:
Food: It's better to have little snacks with the food. Unless you are throwing an 80s-themed dinner party, in that case, you would want to have a more elaborate dinner setting.
But if it's a party, most of your quest will be too busy socializing to sit down for a complete meal.
You can also purchase these great 80s theme cups and plate sets from Amazon. Check out the picture and link below.
Check out the explanation of a great snack table for an 80s party.
Drink: Picking suitable beverages for your party is important because you will have many different types of people at your 80s party.
So, in that case, you want to ensure you have non-alcoholic and alcoholic drinks. And you want to ensure that you have enough supply to last through the whole time of your party.
Because you want to avoid running, getting more drinks, and leaving your party. 
How to put up decorations for an 80s theme party
So, with the decorations, you want to be as elaborate as possible so people can walk in and see a pretty setup of the 80s decade. So you want to have things like: 
An 80s photo booths
With the 80s theme photo booth. I have created a free download of some great things in your 80s theme pictures.
This will download straight to your device; you can print it out and customize it any way you like.
But it works best if you can print it on construction-type or photo print paper; if you do that, it will look more precise on the camera.
Don't worry if you cannot get that; it will still look great in your 80s photos.
Best music to play For a 80s party
Before your party, making a playlist of the music you want to play at your party will be a great idea.
Since you are throwing an 80s theme party, it's only suitable to play 80s music. The 80s had a lot of great music, so I am sure it will take you some time to pick the best songs.
If you need more time or are trying to decide what the best 80s songs are, I have created a playlist for you of the top hits of the 80s. Pick the best ones you know and like from that list and download them onto your chosen device.
Playing game at your 80s play
Two types of games will be great for an 80s party: video games and board games.
At your 80s party, you can set up an area where people can play these games.
For the best board, check out this article, where I outline the best board games of the 80s for video games. It will be a little more costly mainly because you would have to buy all the fun and the gameplay if you don't already have it.
But if it's in your budget, then I would suggest getting the classic arcade games thing like
These will be some great games to keep the party going. Please remember to stay on budget.
How to dress like the 80s
It is time to dress the part once you have everything set up for your party. Now, you must pick out the best 80s outfit for your gathering.
Below are a few good explanations of some shirts you can wear
An Optimus prime shirt
Blondie
Back to the future
Oscars trashy
But if you are looking to go into more detail with your 80s looks, check out these articles below:
Throwing an 80s theme party is always a great idea. Remember to have fun at your party because that's one of the main reasons you're throwing a party. Don't be the person passing out drinks 24/7 and never get to sit down and enjoy what you have created. 
"A party is not a party until you're having fun."
Keep that in mind!